There's probably not one aspect of guitar playing that's more fun than gear! Sure it's amazing to write music and record music and can be an absolute obsession, playing shows in front of expectant audiences, sharing your vision and passion, is obviously what it's really all about…but…There's something about the instruments themselves's that speaks to you. It happens when you experience your first electric guitar up close, or maybe it's when you first saw a guitar in a magazine or on TV. I still get totally excited when I walk into a music store!
Like a lot of us, I have gone through so much equipment in my career that I could never list it all. I have owned twenty one guitars and let most of them go for various reasons. Some I would still like to get back! I have what I need (pretty much) to make the sounds in my head come out but my wish list is huge! For me it comes down to the Stratocaster sound, Telecaster sound the 335 and the Les Paul, as the four pillars of electric guitar tone. I also like the idea of having one live guitar that can cover all of those bases pretty well. As for amplifiers, again, my wish list is extreme but, for now, I am pretty darn happy with my Fuchs ODS and Carr Slant 6.
Pedals are maybe the most fun of all. There are so many amazing manufacturers that have new pedals coming out seemingly every day but let's not forget all of the classics that never go out of style. Throw in recording gear, all of the killer tech advances and a whole host of miscellaneous stuff and it's really pretty incredible.
It's all in the quest for the very best tone that we can achieve. Everyone of us has a different idea what that means and it may change over time. From the pick to the string/cable/pedalboard/cable/amp/mic/mic cable/preamp/AD conversion/sample rate/etc… the mix/plug ins/outboard gear blending old and new/mastering/format/ it all matters and matters a lot. Technology is catching up with tradition and I'm starting to embrace all of that more and more. At least I'm not at a lose for things to obsess over! lol
Update…
In the last year and a half, I have been super geeked about the Fractal Audio Axe FX 3 and have been using it at tons of shows and for teaching lessons as well. Wow, modeling has come a long long way! Alomg with the Line6 Power Cab 212 Plus, this new digital experience is pretty killer!  I'm looking forward to seriously recording with it asap.
Please have a listen to "Bold Horizon" to hear some of these tools in action! Also, feel free to leave a comment, I'd love to have a chat about your gear!!
Guitars

"2016 Anderson Drop Top, Deep Ocean Blue (my live guitar)"

"2014 Anderson Classic, Tobacco Burst"
"2012 Paul Reed Smith SC58 Faded Grey Black"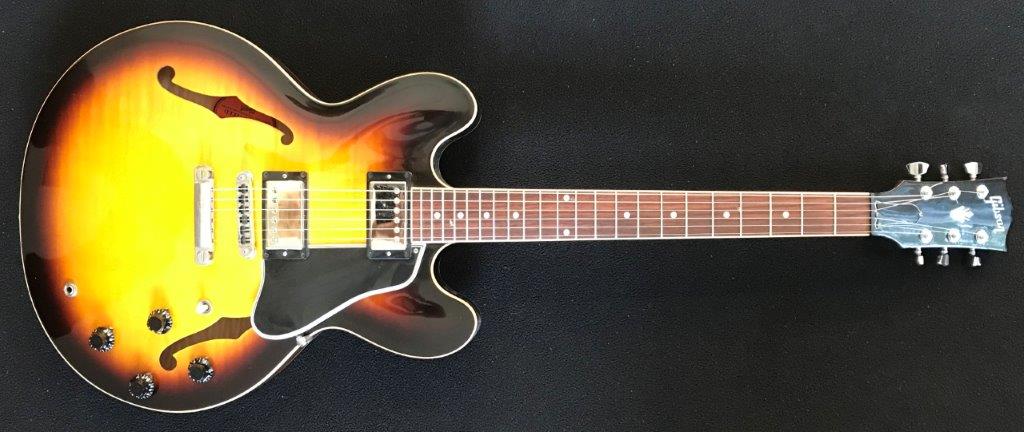 "2010 Gibson 335 Tobacco Burst"

"Warmoth Telecaster"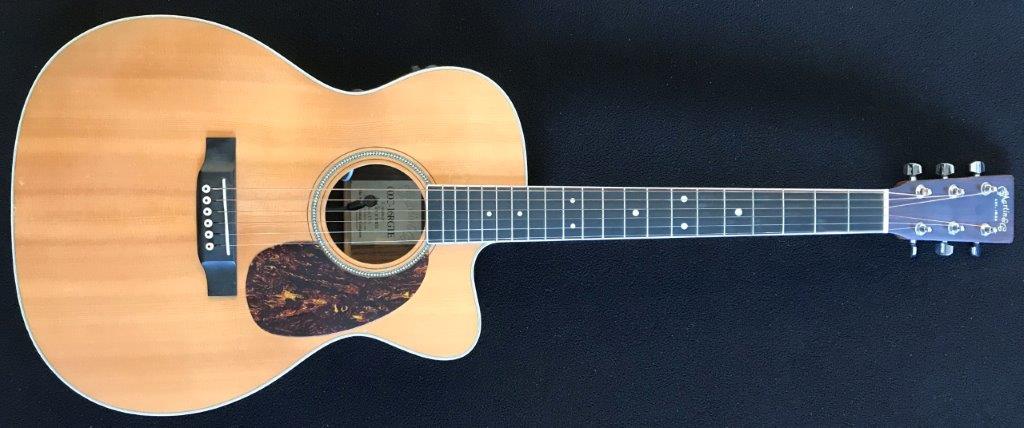 "2004 Martin 000C-16RGTE Acoustic"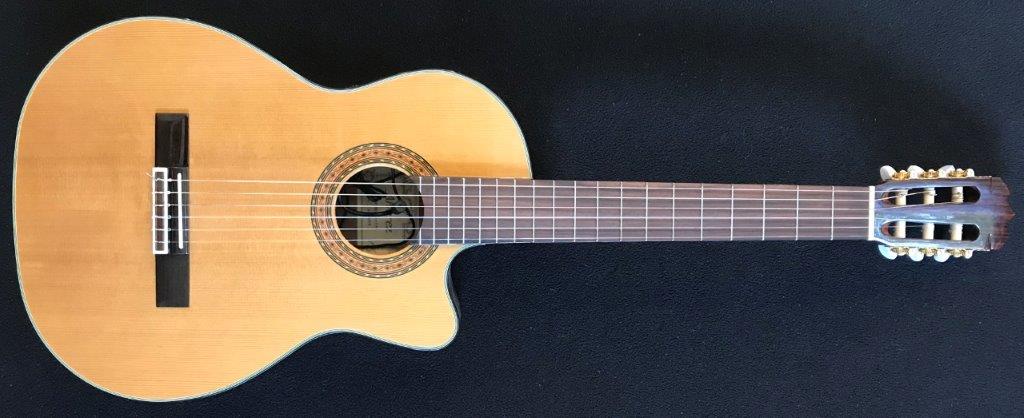 "2007 Alverez AC60SC Classical"
Amplifiers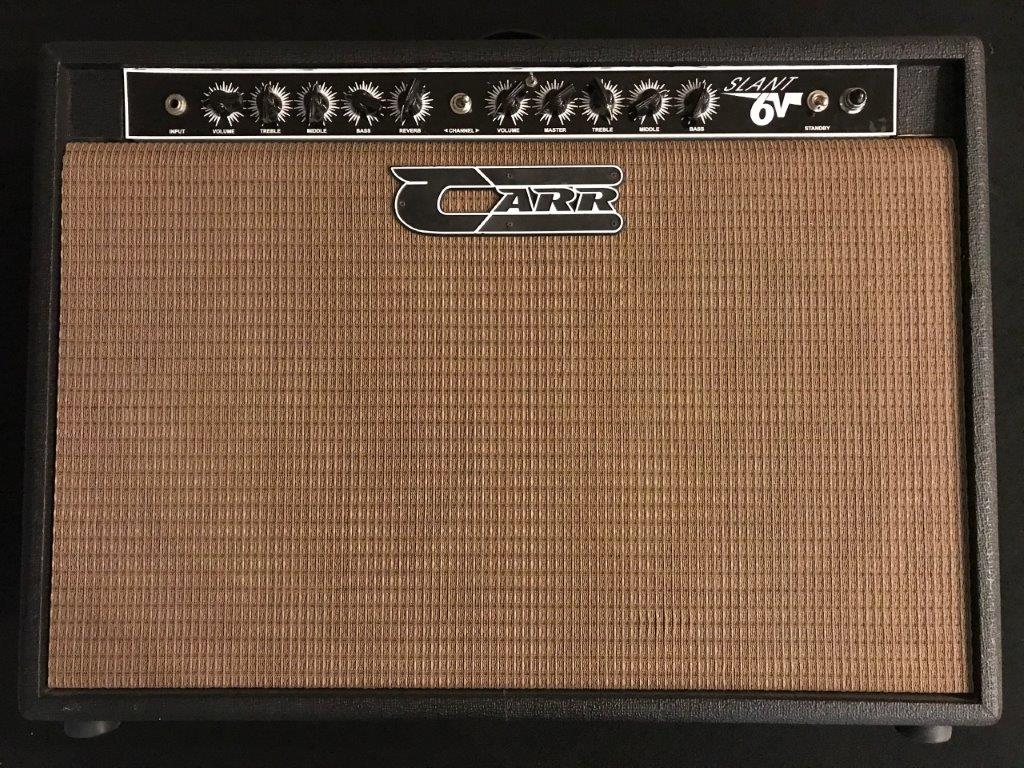 2003 Carr Slant 6V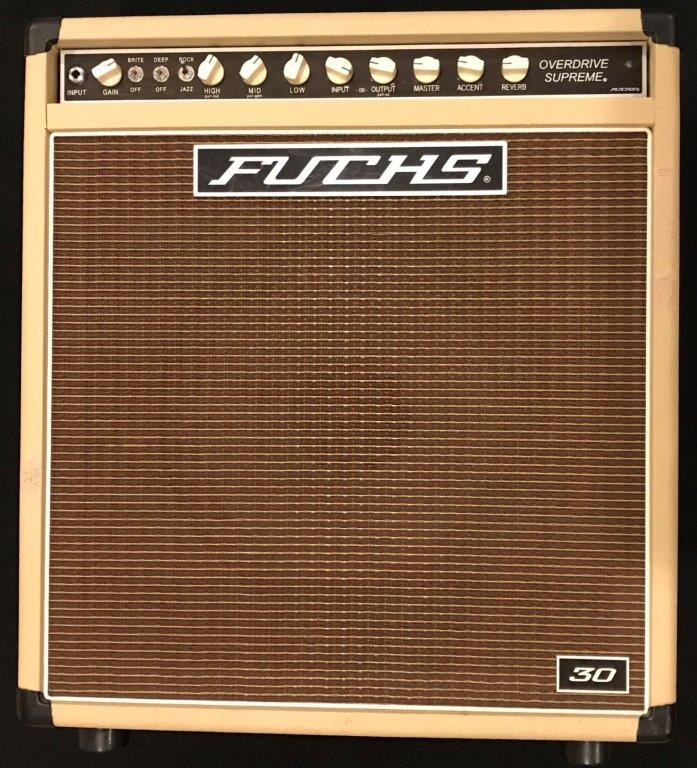 2009 Fuchs ODS30SLX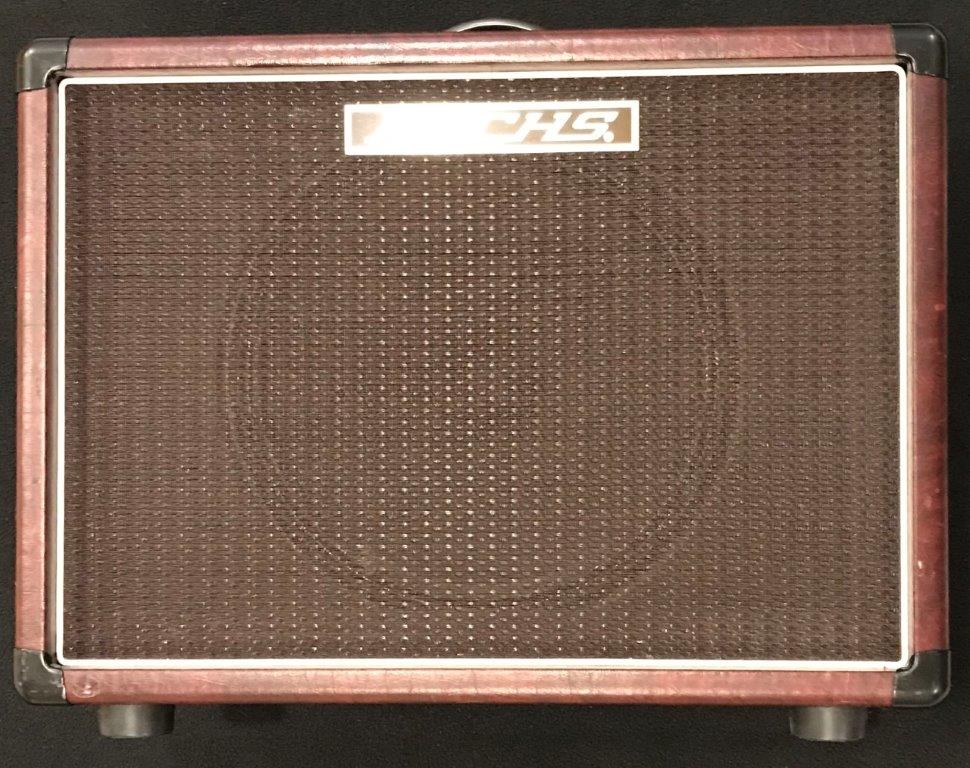 FUCHS Mini Cab Celestian G12H 30 speaker
The Pedalboard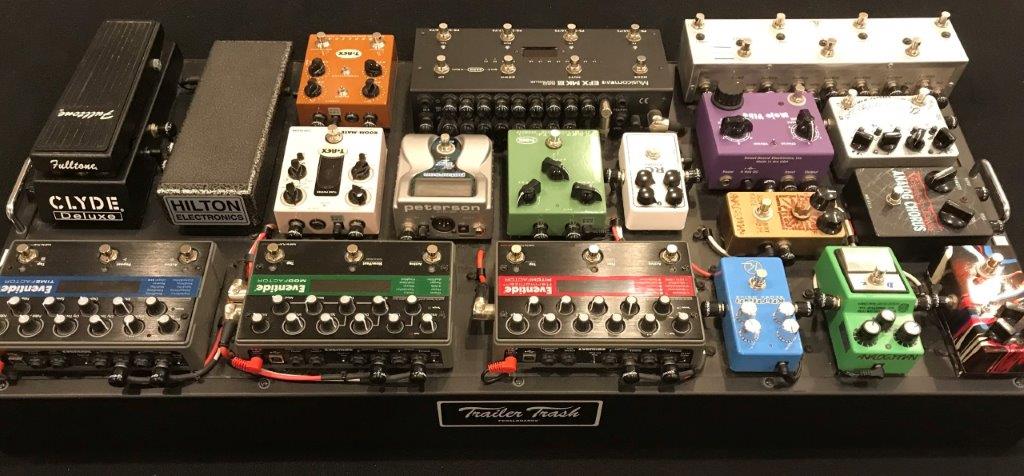 Trailer Trash Pedal Board. Custom wired by Trailer Trash's Rooster Olson.
signal chain- Fulltone Clyde Deluxe(wah wah), Hilton Volume Pedal, next 7pedals wired into a Loop Master true bypass strip ,Analog Man Sun Face NKT 275 Red Dot(fuzz face), Peterson Strobostomp 2 (tuner), Xotic EffectsRobotalk 2(envelpoe filter), Sweetsound Mojo Vibe(uni vibe), Trex Comp Nova(compressor), Xotic Effects RC Booster( clean boost),Voodoo Lab Analog Chorus, next 8 pedals wired into a Musicom Labs MK 3 Audio Controller(midi controller) Keely Katana Blues Drive, Analog Man-Ibanez TS9 808 Silver Mod -Tube Screamer(distortion), Rockbox Boiling Point(distortion), Eventide Pitch Factor(harmonizer),Eventide Mod Factor(modulation effects) Eventide Time Factor(delay) Trex Room Mate 2(reverb) Trex Replica(delay in the effects loop of the Fuchs)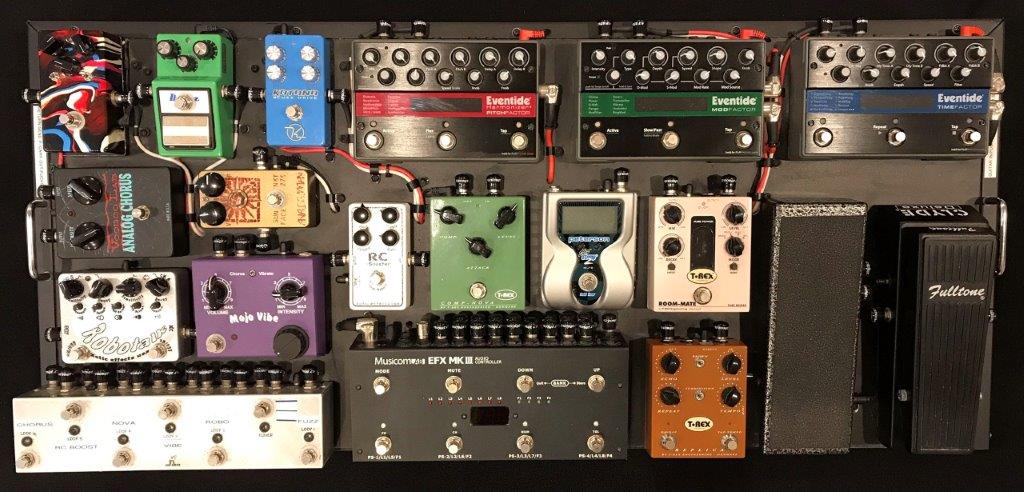 4 Evidence Audio Melody cables- from the pedal board to the amps, Mogami Platnum from Pedal Board to guitar.
Having trashed countless pedals, and having multiple pedal board "breakdowns" on stage, I broke down, and built this layout. (see picture) The board was assembled by Trailer Trash Pedalboards. This board runs two amps, has a programable midi controller, and a true bypass strip for the "extras" that I may want to grab. It is hard wired, reliable, and is super quiet.
Fly Rig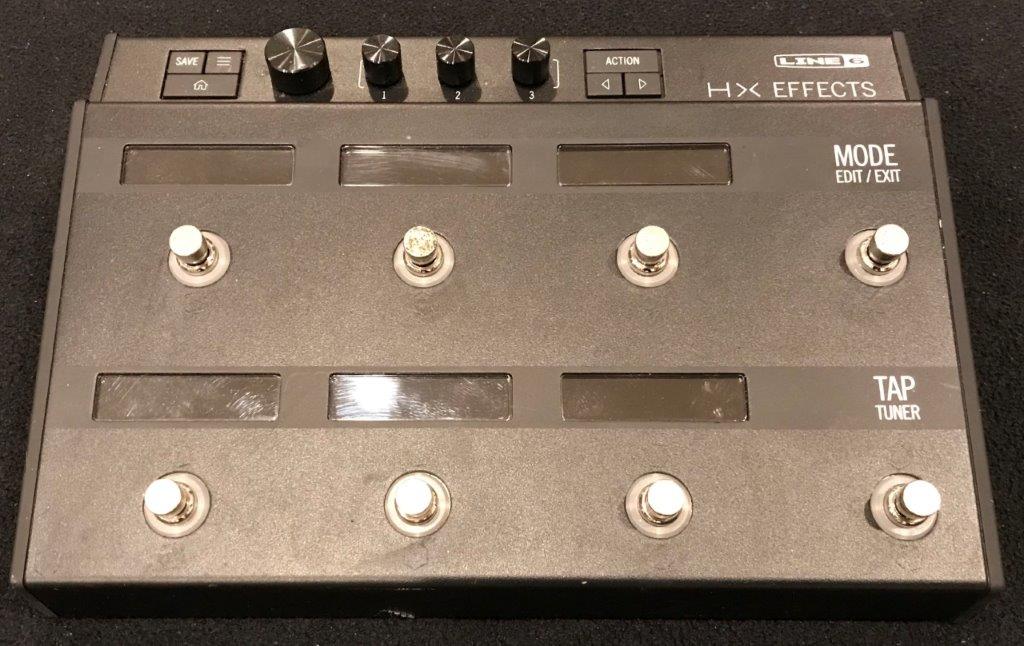 Line 6 HX Effects
Miscellaneous guitar gear
THD hotplate
Full Tone Fulldrive 2
Exotic effects AC booster
Voodoo Lab Tremelo
Ernie Ball VPJR
Line 6pod
Line 6 relay G 50 wireless system
Fishman Triple Play
Tone Rite
Digi Tech Trio Plus
Yamaha THR10
Yamaha THR10 Blues
Studio Slips bags,
Mono Double Guitar Bag
Please feel free to leave a comment below or shoot me an email. I love nerdy guitar gear talk!
You can check out my latest album "Bold Horizon" by clicking here!